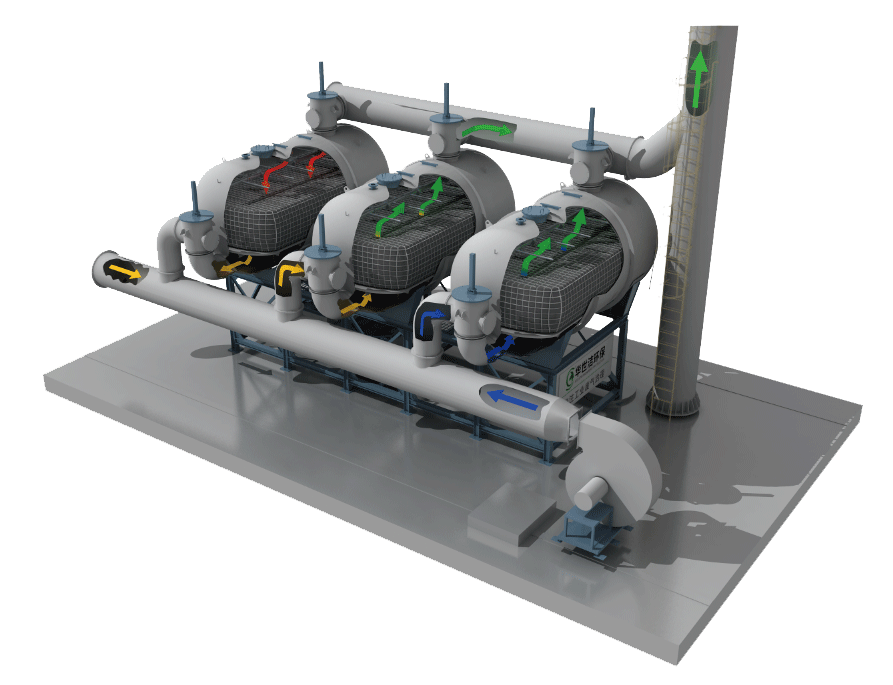 ---
Adsorption recovery is mainly to use adsorption materials to adsorb the organic solvent in the waste gas, and then desorption to recycle the organic solvent. In organic waste gas treatment process, adsorption is one of the methods with good treatment effect and wide application. Adsorbents include activated carbon, diatomite, zeolite and so on, among which activated carbon is the most widely used. Through the adsorption system, not only the VOCs concentration in the exhaust gas can be greatly reduced, and the exhaust gas can be discharged up to the standard, but also the collected materials can be reused for production through desorption, so as to realize the material recycling and reduce the material consumption.
---
Process principle description
Adsorption: the waste gas containing VOCs passes through the adsorbent bed, VOCs are adsorbed in the microporous structure of the adsorbent, and the clean gas is discharged into the atmosphere.
Desorption: when the adsorbent is saturated, it loses its adsorption function and needs to be regenerated. The adsorbent is mainly gasified by heat source and then carried out by the carrier.
Purge: in the process of heating and gasification of adsorbate, the adsorbent is also heated correspondingly. Low temperature is conducive to adsorption, so it is necessary to reduce the temperature of adsorbent.
---
Product features and advantages
Advanced design concept: system integration, standardized / modular design makes the construction period more flexible / turnkey project, so that customers can leave the project to expert.
Large adsorption capacity: fast adsorption and regeneration, high adsorption efficiency and high recovery rate
Excellent and efficient operation performance: processing efficiency is above 90%.
Reliable safety performance: multiple monitoring and warning / multiple safety interlock to ensure efficient and safe operation.
Convenient and fast network interaction performance: remote control, real-time online monitoring.
Simple and efficient operation performance: modular management, programmed control, automatic operation / simple, efficient, fast, easy maintenance.
---
Application industry
It is suitable for pharmaceutical, film coating, painting, high strength and high modulus polyethylene (PE fiber and diaphragm), semiconductor Polymer materials, packaging printing, leather making (superfine fiber), petrochemical industry, etc.