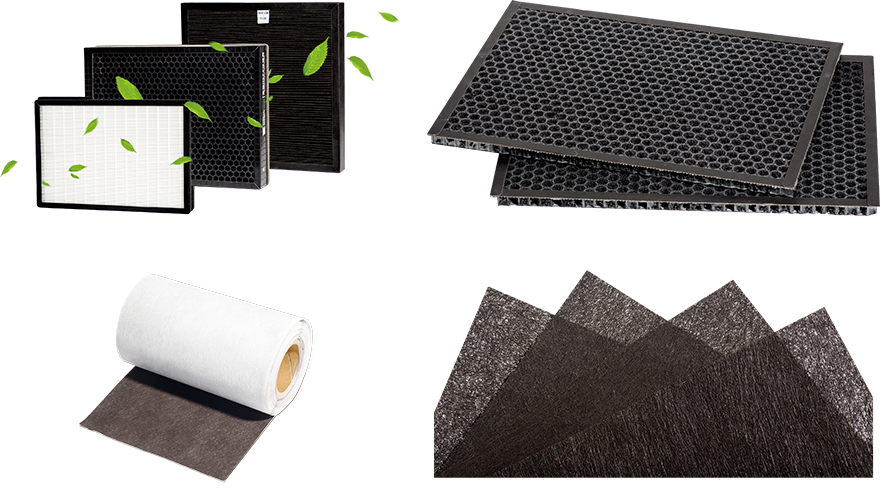 ---
Indoor purification materials are effective means to solve indoor PM2.5, aerosol, toxic and harmful pollutants and odor. In general, it has a wide range of applications, and can be effectively combined with air purifier, fresh air system, air conditioner, refrigerator, printer, electrostatic precipitator, ultraviolet sterilization, etc. It can completely solve the problem of indoor air pollution and eliminate secondary pollution.
---
Indoor purification materials mainly include high-efficiency HEPA filter element, high-efficiency HEPA filter element with formaldehyde and ozone catalysis, active carbon and its filter element with high-efficiency aldehyde, TVOC and odor removal, antibacterial filter, aldehyde and odor removal and discoloration material, ammonia and odor removal and discoloration material, refrigerator fresh-keeping, antibacterial and odor removal purification material and its module.
At present, the materials have been initially applied in the air purification of vehicles, indoor air purification and refrigerator odor purification.
Molecular sieve rotor + thermal oxidation · Regenerative thermal oxidation RTO · Adsorption recovery
---
Huashijie Purifying the air worldwide
Huashijie indoor purification materials for civil air purification field, has developed a variety of product types and models to meet the different needs of customers. Adhering to the road of independent research and development of core materials, relying on the R & D strength and product advantages of activated carbon fiber, ultra-high molecular weight polyethylene fiber, molecular sieve adsorption concentration rotor and electrospinning nanofiber, the uniqueness of indoor purification materials in the market has been widely recognized by customers domestic and abroad.